Salon Science Instant Artificials is a nail polish that protects the nail like no other, it mimics the hardness of acrylics.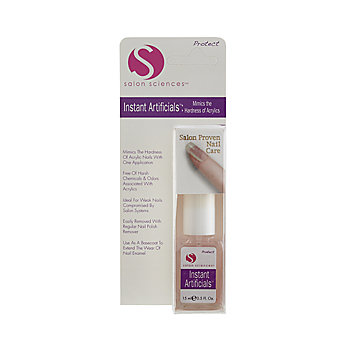 Can be used as a base coat or alone. You can apply two coats, I myself use just one coat of polish for a natural look. Just reapply another coat if it starts to look dull or take off with regular nail polish remover and start fresh. I've been using this nail polish for nearly 2 months. There are no harsh chemicals and odors associated with acrylic nails, Instant Artificials can be removed easily with regular nail polish remover.
Salon Science Instant Artificials eliminates problems with brittle nails that break easily. This is the perfect alternative to achieving artificial nails without the damaging side effects about $10 at Sally's Beauty Supply and worth ever dollar. My nails look and feel healthy, I no longer want to hide my hands when out in public. Try it you won't regret it.